I was late to the party with facebook advertising.  In my opinion and experience as an FCA Dealer, facebook was NOT a direct response marketing platform. In fact, it seemed like a monumental waste of time.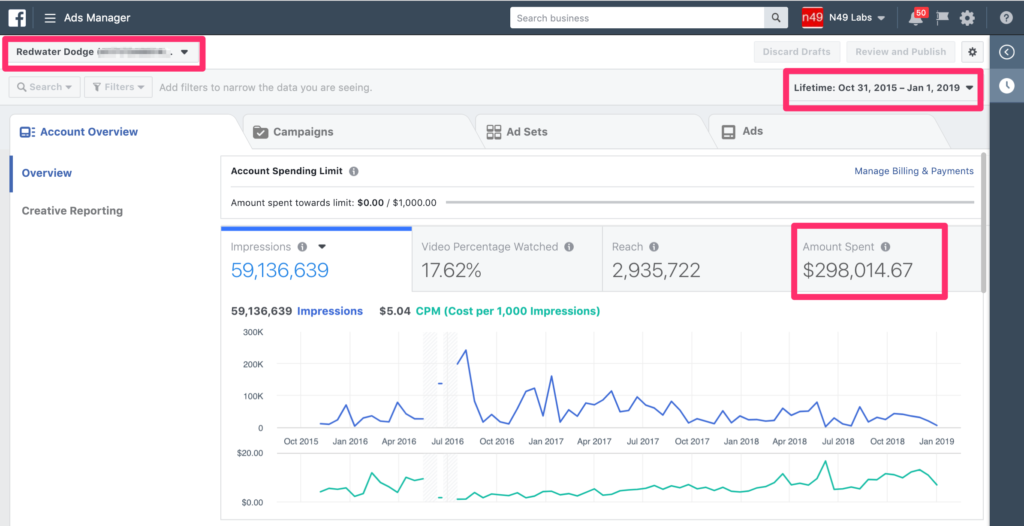 That changed for me in October 2015 when I decided to make a fb post regarding a factory recall of the Ram 1500…
The post went viral. Thousands of Ram owners responded. We started selling new Rams to strangers we met for the first time on facebook. Lots of them. 
Thing #1: facebook advertising can work for a car dealer (when properly done)
That "Game Changing" experience started me on journey that led to San Diego, Seattle, and eventually to the facebook advertising HQ in Austin Texas with the Author of the number one selling book in the world on facebook advertising, Keith Krance. (A story I will share in an upcoming post).
I wanted to hear directly from marketing experts OUTSIDE the auto industry. I wanted to learn how best to develop and deploy a direct response social media marketing strategy that would yield better results.
I knew the only way we were going to gain market share in the "post oil bust" economy was to become a marketing outlier.
It's difficult to stand out from the herd in the Auto Industry. FCA franchises, like all brands, are pretty  similar. They sell and service the same products made in the same factories. The staff are trained by the same gurus.  The facilities look the same. We all deal with the same handful of digital marketing "FCA Approved" agencies who run the same vanilla ads on the same platforms month after month.
There are also a lot of us. Alberta has 75 FCA franchises. Redwater Dodge, my store, is in a small town of 2,000 people. Our entire trading area is just over 3,000 rooftops. (One of the smallest in the province). In 2018 we finished 35th in new retail sales volume.
Thing #2 : a small market franchise can leverage facebook to build a unique brand(s), stand out from the pack, and outsell the competition.  (Google "Rig Ready Rams" or "10 Dollar Oil Change" to see exactly what that looks like)
It's no secret to anyone in our business how tough the last few years have been in Alberta. Any business serving  those who work in the oil patch are feeling the pain. My store is no different. However, throughout the decline, we have expanded our reach and customer base through social media.
We have continued to build our brand into one of the most recognized and trusted in northern Alberta. We have thousands of testimonials and favourable comments all over the web. (Google "Redwater Dodge Reviews" and you'll find hundreds of video testimonials from our customers.)
As our brand and reputation for being a friendly place to do business grows, the cost of our digital advertising on all platforms goes down. (I'll explain exactly how that happens in a future post – stay tuned).
As we build up our "Digital Assets" the effort it takes to get our message in front of the right people gets easier.  For example…
We've had several thefts over the years in Redwater. This past summer we had someone break into our compound and walk off with several sets of tires. I made a post on facebook asking for help in tracking down my property. Within a few days we found them.  If you Google "Redwater Dodge Theft" you will find several TV, radio, Newspaper, Magazine and web reports about it. What generated all the media interest was how we used facebook to track down the culprits.
It's ironic how one facebook post created so much "free" publicity on "traditional media". This was possible in part because we had been building our digital audience for several years prior to making the post. When we made the post, it got seen by a lot of people who found the story interesting enough to read, share, like, and comment on it.
Thing #3 : facebook is not like TV, radio, Billboards, YouTube, Flyers, Email, or Newspapers. It's all of those things and much more. It's where people consume and share information today. It's where they are hanging out several hours each day. It's where elections are won or lost…
What's next?  
Metro stores, for the most part,  still rely on their size, location, large selection, big advertising budgets, existing customer base, and momentum for much of their new business. (Sales volumes are in decline).
Some much smaller market stores continue to slowly and steadily increase their share of the pie.
These Dealers "in the know" in 2019 will be able to punch far above their weight class.
How?
What do the stores who are holding onto or growing their sales volume have in common?
If you look carefully at their presence online, (all platforms, not just facebook), you will start to see  common denominators. They are not doing one thing right, they are simply doing a lot of things others are overlooking because they don't know what they don't know.  (Nothing fails like success).
Those growing are building a brand and identity independent of the manufacturers and they are leveraging social media effectively to spread their unique message.
2019 will be the year our industry learns about Dynamic Product Ads on facebook and Google. Every dealer reading this article will start to hear more about "DPA's"  at 20 group meetings, and from the endless parade of vendors trying to pitch their services.
DPA's are relatively new and yes, a properly constructed and managed DPA funnel strategy can be a game changer. If I had these back in 2015 I WOULD NOT have spent 300k with facebook. I could have got the same traffic for less.
If you are an FCA dealer outside of the Edmonton area, (I don't want to compete with you :-), and are interested in getting traffic at a fraction of what you are now paying, contact me and I'll give you a peek under the tent.  
If you are interested in knowing how to level the playing field with much larger stores near your location, I can share lessons learned after 6 years crossing swords with some of the biggest and best retailers in our business. (Redwater Dodge is 30 minutes from Edmonton City Limits)
David Tingley (Sr)
Dealer Principal
Redwater Dodge
Comments
comments